Kelly O'Dell
Captivated long ago by her father's glassblowing, Kelly O'Dell was involved with glass at a young age. Kelly's family lived in Kealakekua, Hawai'i, where her father built himself a glass studio at their home. It was 1979, at 6 years old, when she remembers her father dribbling hot glass on the concrete floor, spelling words and names for the crowd surrounding him.
Twenty years later she graduated from the University of Hawai'i at Manoa in Honolulu with a BFA degree in Studio Art, with a focus in Glass. With Rick Mills as her instructor, Kelly's experience at the University provided her the tools and knowledge to leave the islands for a much bigger world. Eager to immerse herself in the glass movement, Kelly moved to Seattle, where she assisted various artists in their studios. Here she worked and studied at Pilchuck Glass School and Pratt Fine Arts Center, and began to exhibit her work actively. She took the opportunity to work at Caleb Siemon's glassblowing production studio for two years in Orange County, California, where she developed an appreciation for color and design. In 2003, the William Morris team welcomed Kelly aboard. She enjoyed assisting Morris during his last few years of glassmaking, and continues to work at Pilchuck Glass School during the summer and winter seasons. She currently lives on on Lopez Island with her partner Raven Skyriver and their son Wren.
Education
1999 BFA Degree Studio Art. Medium Focus: Glass. University of Hawaii at Manoa, Honolulu HI

Selected Group Exhibitions
2001-2012 Pratt Fine Arts Center Auction, Seattle, WA
2007 Pratt-Pilchuck Artists, Tashiro Kaplan Building, Seattle, WA
Glass Exhibit, Northwind Arts Alliance, Port Townsend, WA
2006 Message in a Bottle Larrabee State Park, Bellingham, WA
Bay Area Glass Institute Auction, San Jose, CA
2002 Bay Area Glass Institute Auction, San Jose, CA
2000 Free Association, Serpentine Studio, Seattle, WA
1999 Passage: An Entrance to Exit University of Hawaii, Honolulu HI
Vitreous Spectacle, Gallery I'olani, Windward community College, Kaneohe, HI
1997 Glass: A Traveling Exhibition, Koa Gallery, Kapiolani Community College, and Leeward Community College Gallery, Honolulu
Anchorage, 2017
Collaboration with Jimmy Anderegg, Blown and sculpted glass 16 x 10 x 14"
(R)evolutions:Halve, 2018
Sculpted, cut, hot-cast, fire-polished glass, 8 x 12 x 4"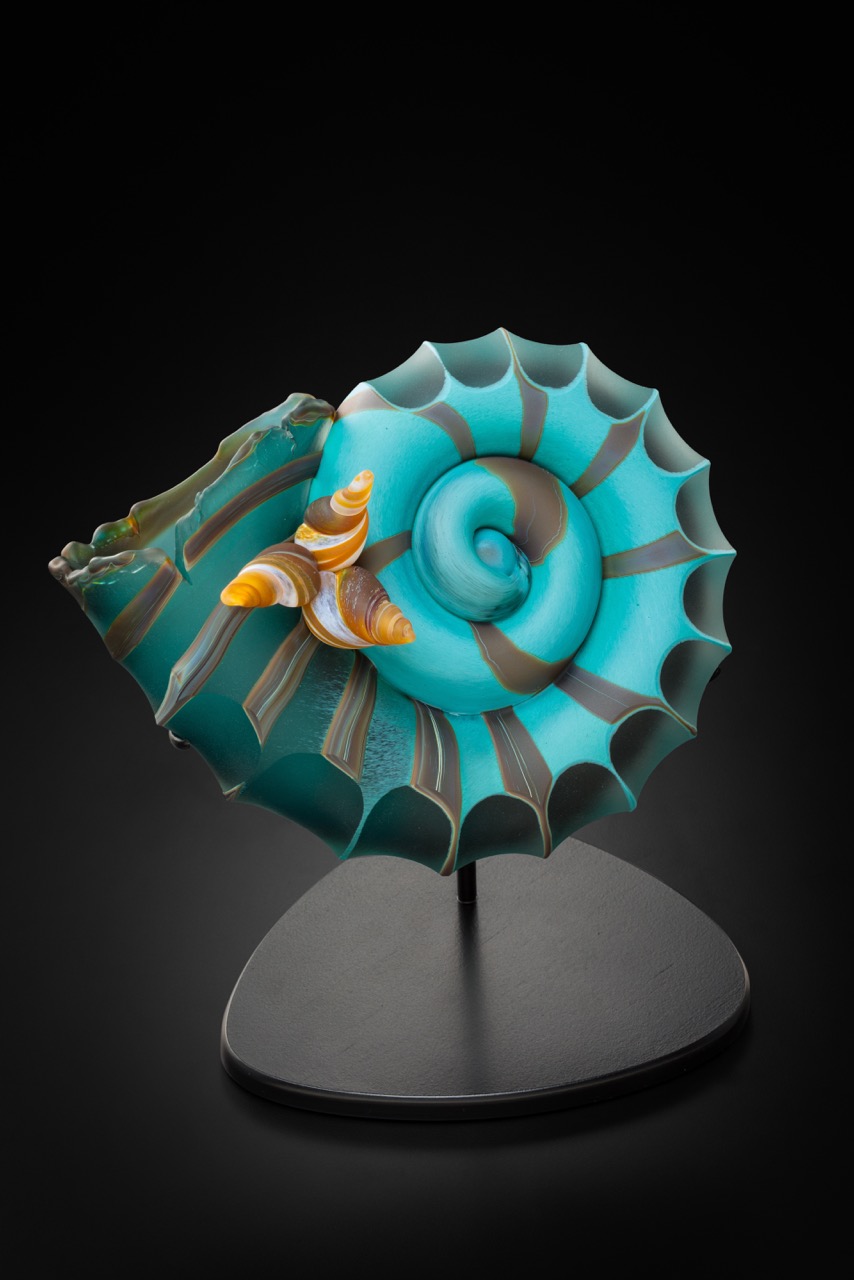 Turquioise Index 2018
Blown,sculpted and carved glass 10 x 8 x 6"
Medusa, 2018
Collaboration with Raven Skyriver. Off hand sculpted glass, 16 x 7 x 14"